68 lb 1-1/8" Hex Pavement Breaker with Hammer Truck and Steel
The D25980K 1-1/8" 80lb demolition hammer delivers a concrete pulverizing 52 joules of impact energy. The dependable and hard hitting German engineered mechanism, delivers long life. With its all metal housing and barrel, this demo hammer was meant for heavy-duty applications like floor trenching for pipe, breaking out stairs/risers, creating openings into shafts, breaking asphalt, loosening/breaking hard packed dirt/gravel/clay and confined space work when big power is needed. The Active Vibration Control® technology employed delivers reduced user vibration for less user fatigue and greater productivity.
Bosch Brute™ Breaker Hammer
The Bosch Brute™ Breaker Hammer delivers the best concrete removal rate in its class, impressive for a tool that weighs just 63 lbs. Providing 1,000 BPM and 35 ft.-lbs. of impact energy, this tool can handle heavy-duty applications such as asphalt work or foundation removal. The Vibration Control™ system includes a longer air cushion in the hammer mechanism and shock-mounted handles. The breaker hammer doesn't need a compressor, running on any 115/120V AC/DC, 15-AMP outlet or 2,500-watt portable generator. The tool employs Bosch's Service Minder™ brushes, which stops the tool when preventative maintenance is needed. For longer tool life and better return on investment, it delivers a grease-packed gearbox and hammer mechanism, a heat-dissipating hammer tube and rubberized nonslip housing cover that helps to prevent accidental fall-over.
Features:
15 Amps, 1,400 BPM
The plug in anywhere hammer - Does not need a compressor
Total portability - Operates on 115/120V AC/DC, 15 amp. outlet or 2,500 Watt portable generator
Service Minder brush system - Shuts the Brute off when brush replacement, lubrication or preventative maintenance is needed
Grease packed gearbox and hammer mechanism - Eliminates uncertainty of job site lubrication
Shock mounted handles - Absorbs vibration to reduce operator fatigue
2-way tool retainer - Accepts standard 1-1/8 in. hex, air tool steel with retaining collar of Bosch internal locking combo steel
Heavy item - additional shipping charges apply.
This item may ship in the original manufacturer's packaging
Edco 36" T-364 Power Trowels
Completely redesigned to help concrete professional produce high tolerance concrete floors.
Rugged, dependable EDCO Power Trowels save contractors time, labor and money.
Precision engineered gearbox features high-quality bearings & double lip seals for reliable performance
Cast-Iron Spiders, pressure plates and lift levers for long wear and continuous service.
Precision machined trowel arms and spiders, no bushings needed.
Bolt-on blades are standard on EDCO power trowels.
Standard aluminum lifting bar assists when loading & unloading the power trowel. Standard lifting bail can also assist.
Optional Level-It System available for all models, all cables are contained within round-tube handle design.
Multiquip Whiteman B Series 46" Power Trowel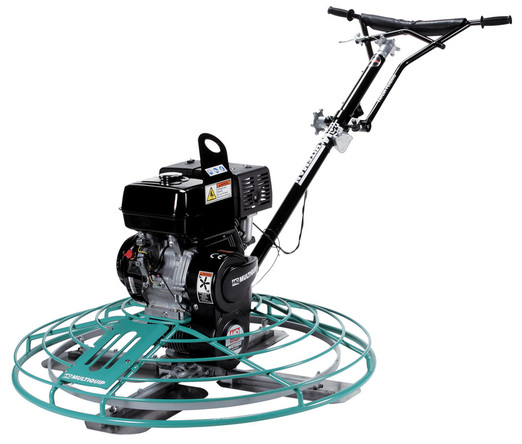 Features a heavy-duty gearbox and spider assembly along with high-horsepower Honda engine.
Rotor speed of 30-155 RM for high speed finishing applications
Trowel covered by 1-year limited warranty
Front access panel provides quick access to trowel arms and blades
Center mount lifting bale included
Spider and thrust collar assembly design simplifies routine maintenance
Gearbox features top quality components & large oil capacity for years of trouble-free performance
Optimally balanced for smooth finishing
Please call for pricing and availability (360) 376-4888