Kubota KX121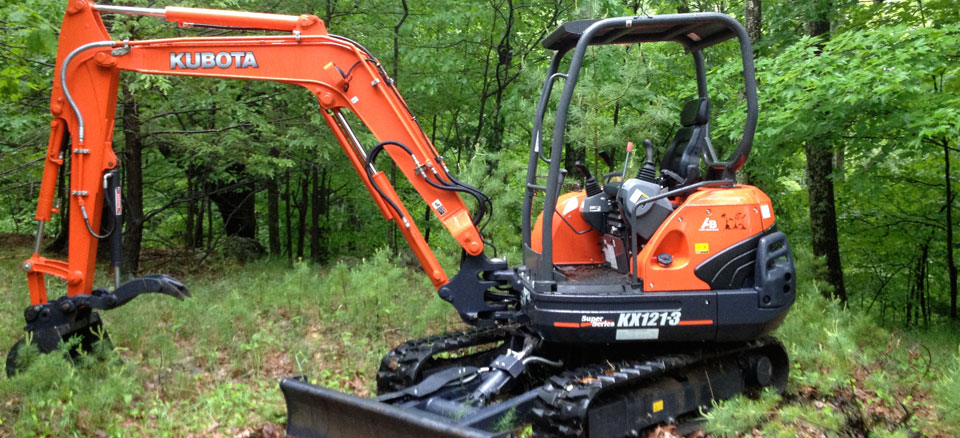 Powerful and dependable, the KX121-3S's diesel engine delivers superior horsepower and performance. It offers low noise and vibration levels, exceptional fuel efficiency, and complies with the EPA's 2008 interim Tier IV emissions regulations.
Save time and work more efficiently. With a simple movement of the dozer lever, the hydraulic angle blade can be angled to the right or left to push soil to the side as the machine moves forward, eliminating the need for repetitive repositioning at right angles when backfilling trenches.
The digital instrument panal lets you control the oil flow according to your needs or the attachment in use. It eliminates the hassle of using tools to change settings manually, so you don't have to leave the cabin. When using a tilt bucket, you can slow the flow to get just the right control to gently shape a swale. Alternatively, for a brush cutter, direct the oil flow to one side of the excavator arm. The system will even store your settings for the next time you need it, saving time and quickly regulating the flow requirements. Adjustable oil flow enhances performance and saves fuel.
Even when heavily loaded, the KX121-3S won't slow down, thanks to its powerful breakout force. With the pin-on or quick coupler bucket, the bucket breakout force is more than enough for even the tough excavating jobs.
You no longer need to change lever strokes to adjust the amount of oil required for varying job loads. Control valves automatically regulate and distribute the optimum amount of oil to each cylinder based on the weight of the load, resulting in perfectly matched speed, power, and cylinder timing. Even the slightest operator movements produce smooth and simultaneous operation of the boom, arm, bucket and house.
The KX121-3S is a breeze to maintain. The side and rear covers open wide and the main components are centrally located, giving you quick and easy access to all vital areas, including the engine, fuel tank, water separator, radiator, coolant reservoir, air filter, control valve and hydraulic tank.